In July 2006, we went on a walking tour round Mont Blanc organised by the French company Cairn, which specialises in mule-accompanied guided walks. The complete Tour de Mont Blanc takes about 10 days. The Cairn trip takes 7 days to do about 3/4 of it. It starts from Notre Dame de la Gorge and ends at Le Tour. The map below shows each day's route with a line of a different colour - put your mouse over each of these lines to see the start and finish for each day and click to see photos and a description of that day. As you can see from the map, the walk left out the Chamonix Valley and skips a little bit near Courmayeur where we took a bus. For a study of the route and its callenges and points of interest, we recommend the book 'Tour of Mont Blanc' by Kev Reynolds, published by Cicerone.
This Google maps composite image shows the whole Mont-Blanc massif and the national borders of France Italy and Switzerland meeting at the summit of Mont Dolent, one of the peaks in the massif. The greyish track-like objects are all glaciers.
Run your mouse over the coloured line to see each day's route and click to get a page of photos and details about that day.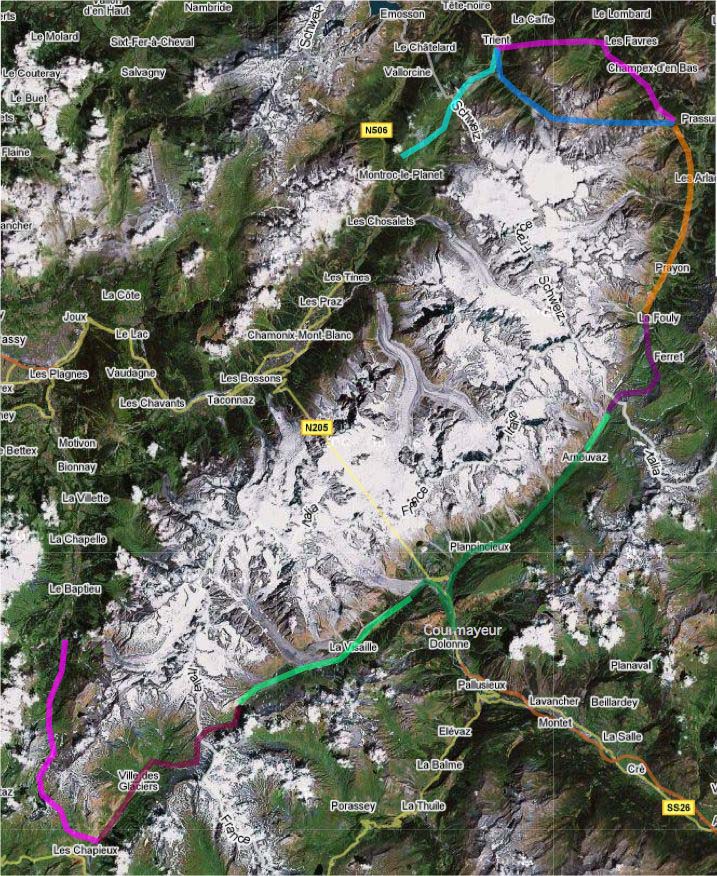 (If you are a Google Earth user, this placemark should take you to a zoomable 3D view of the massif.)
Our route was in the anticlockwise direction, although some walkers go round the other way. Cairn offer a variety different ways of doing the route: we took 'Comfort' which provides accommodation mainly in double rooms (all except for one night). Another variant is 'classique' which offers dormitaory accommodation. The mules carry most of the baggage in strong red bags, leaving us to carry just what we needed for each day in a small rucksack - mainly drinking water. Almost all of our group used one or two hiking poles.

We spent the first night in an inn in France, the next two in refuges in Italy and the final three in inns in Switzerland. Full board including an excellent picnic was provided. We needed to buy only drinks.

The walk each day consisted usually of a hard walk up to a col where we stopped to admire the view and recover our strength and then a long walk down the other side. We walked about 12-15 km each day and managed 1000-1200 metres ascent. Although there were many strenuous and steep paths, the only difficult stage was the Fenêtre d'Arpette on the penultimate day, where an attractive alternative route was available. The mule provided a focus - the guide was always with the mule which was easy to spot as it took its breaks to eat wild flowers or grass or have a drink fom a stream.