Tutorial 3 - Creating and using pre-planned routes
Generating routes
Routing services
There are plenty of web sites offering cycling-specific mapping and many that offer automatic cycle route generation. It isn't our purpose here provide a comparative review of cycle routing services, so we'll just list a few salient facts about the two main options in the UK, cyclestreets.net and the recently-launched 'cycle directions' feature of Google Maps:
Routing services require the use of a comprehensive geographic database (see Tutorial 2). Good cycle routing depends on the availability in the geographic database of a lot of good cycle-specific mapping data for cycle lanes and tracks, cycle-permeable road barriers and so on.  
There are currently only two geographic databases available for use by internet-based mapping services:

The OpenStreetMap database which is cooperately generated and updated as descibed in Tutorial 2. It is available to routing and mapping services for free and unrestricted use. It used by the cyclestreets.net routing service.
The database underlying Google Maps, which is proprietary (it is comprised of geographic data licensed to Google by the various national mapping agencies such as Ordnance Survey supplement by data collected by others on behalf of Google). The Google mapping database is used by the directions features of maps.google.com, maps.google.co.uk and so on. 
Other geographic databases are owned by Garmin, TomTom and other companies and used in Garmin and other GPS hardware and software. They form the basis for most car satnav systems but they are not available to internet-based routing services and they do not include sufficient cycle-specific data to enable good cycle routing.

 The quality of cycle routes generated by a routing service depends on the completeness of the geographic database used and on the cleverness of the algorithms in the 'routing engine' - the software that generates routes.
 At present the routes generated by cyclestreets.net seem to be of higher quality. 
At the time of writing (August 2012) Cyclestreets has been offering cycle routes in the UK for more than 3 years and recently extended its routing service to cover most of Europe. Google had been offering biking directions in the US since 2010 and in July 2012 announced their extension Austria, Australia, Belgium, Denmark, Finland, Netherlands, Norway, Sweden, Switzerland and the United Kingdom.
Drawing or tweaking the route
Fully automatic routing is the reason for the popularity of satnav devices for cars, but when we're on our bikes we're often interested in going via places that don't necessarily lie on the shortest route or even on the most cycle-friendly one. Fortunately you can generate routes by drawing them over an online map. It's best to use a mapping site where you can specify 'draw along roads' - so that the line you draw will automagically follow the road. Gpsies.com offers that capability as does the Google maps cloud service (aka 'My Places').
With the Google maps routefinding you can tweak an existing route by grabbing the line representing the route with the mouse and dragging it to a different road. Cyclestreets.net is due to launch a 'go via' capability that should achieve a similar result.
GPX files
Once you have generated a route, you need to save it as a GPX file suitable for loading into your Garmin. 
GPX is a file format used to hold descriptions of routes on maps. Garmin devices accept GPX files that can be used to navigate a specific route, but not all of the possible GPX file formats are fully compatible with Garmin devices. GPX can hold a variety of information defining a route or describing individual points (waymarks). We are interested mainly in its use to hold a sequence of trackpoints derived from a route shown on a digital map. By generating a GPX file containing a sequence of trackpoints that conforms to certain constraints we can be sure that the route we navigate on the device will be the same as the one we saw on the screen of our computer.
Most web mapping and routing sites offer the ability to save a route as a file on your computer in some variant of the GPX format, but not all fully compatible with Garmins and Google Maps saves routes only in KML format which must be converted to GPX.
The aim of this tutorial is to get you started on generating routes for your Garmin using whichever internet-based mapping or routing service you wish. We shall overcome the diversity of formats that they generate by using the gpsies.com web service to store all the routes we generate and download them whenever required in a fully Garmin-compatible GPX format.
At this stage you could make a start on the coursework at the end of this Tutorial by getting yourself an account on the gpsies.com site and taking a look around the site.
If you use cyclestreets.net to generate a route, you will see these two options on the page describing the route:
I recommend using the View on larger map in GPSies option to transfer the route to your gpsies.com account. Below is a screen grab of the gpsies.com page that you will see (in a new window) after selecting View on larger map in GPSies. To save it in your gpsies.com library use the modify track/save on GPSies button. On the next screen you should give it a name (by which it will be known in your list of routes on gpsies.com) and then click the Save on GPSies.com button. On the next and final screen you should choose an Activity type (cycling) and click on the Save button at the bottom of that screen. If that all sounded a bit long-winded, be assured that it's simple when you get used to it and the convenience of building up a route library at gpsies.com that you can share with others and refer back to is worth the effort.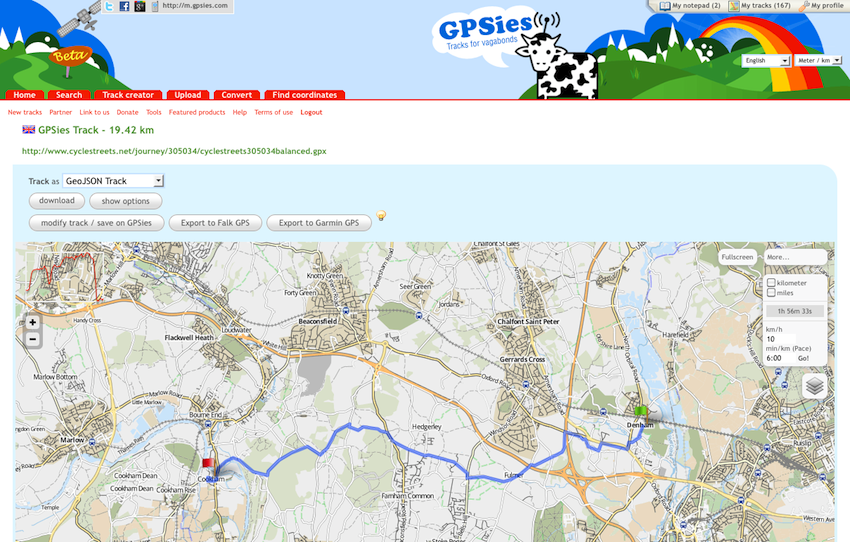 If you have used maps.google.co.uk to generate a route, you will need to save the route in your Google 'My Places' library, then download it to your computer as a KML file (the only file format offered by Google Maps) and then upload that to gpsies.com.
Installing GPX files on your device
The instructions given here are based on the Garmin Edge 605 and 705. The Edge 800 and other Garmin devices will differ in some details.

Once you have a route in your gpsies.com account you can download it in precisely the format needed for navigation on your Garmin.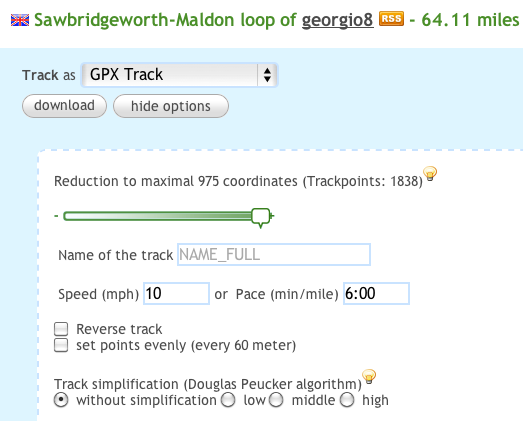 So having stored a route on
gpsies.com
, how do we get it onto our Garmin device.
The screen grab below right illustrates how to get a route downloaded to your computer.  We have already selected the file type
GPX Track
and in the box that appears after clicking
show options
we have used the slider to reduce the number of track points that we will download below the Garmin device threshold of 1000. If we now click on the
download
button the route will be downloaded to your computer into whichever folder your browser normally puts downloaded files as a GPX track file.
The final step is to copy it from your computer on the Garmin. To do this, plug the Garmin into the computer using the USB cable. You should now see the Garmin as a device on the Desktop (with the name
Garmin
). Clicking on it will reveal its files, which should look like the screen grab below. The GPX track file should be copied into the folder Garmin/GPX, where two routes are shown already loaded on my device:
Brighton-RyeViaLewis(revised).gpx
and
Swindon-Stroud(cyclestreetsShortened).gpx
.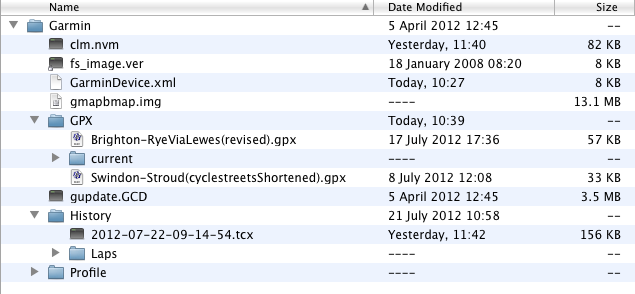 Once you have done that you can
Eject
(unmount) the Garmin device. Routes loaded into the device will remain until you delete them. The storage capacity of the device is sufficient to hold dozens of routes, but there is another reason for keeping the number down. They will all be listed in the menu of routes in the tiny Garmin screen whenever you go to select a route. Andthe names of the routes shown on the Garmin's screen are not the same as the file names! The name of a route in the device's route menu will be the name that appears inside the file between <name></name> tags, near the top of the file. GPSies will usually put a meaningful name there. If you want to modify the name, you can use a text editor to edit the string between the <name></name> tags before putting it onto the Garmin. This can be useful, for example when going on tour - I insert a 'day number' at the beginning of the name of each route so that they appear in the Garmin menu in day number order.
Additional info for Edge 800 users (courtesy of Shaun MacDonald):
The Garmin 800 stores route data as .fit files rather than TCX or GPX. Also you have to place it in the NewFiles folder, otherwise it won't pick up the new route properly nor reliably. Then on first boot it converts it to .fit and puts it into the right place in the memory after processing it. There is probably more to be said about this, but we'll have to wait for further feedback from Edge 800 owners. (Based on
this review
I have decided not to upgrade for now, see my comment at the bottom of Tutorial 1).
Using a route:
menu button > Where To? > Saved Rides
Choose a route by name if you have several loaded, then choose 'Navigate'
Coursework:
1. Set up an account on gpsies.com and familiarise yourself with the site's facilities.
2. Use cyclestreets.net to create a route and transfer it to gpsies.com as described above.
3. Get the route into your device and use it to navigate a bike ride.
1 comment

On 16 Oct 2012, at 10:19, Stephen Taylor wrote:
Thanks for championing the GPS. It made a good servant and enabled us to travel with a few large-scale maps. (We used the ADFC 1:150,000 touring series.) It made a bad master in towns, unaware eg that almost all Antwerp streets are 2-way for cycles, and struggling to track current position through a series of rapid turns. I was hugely impressed by its ability to take a street address and guide us across country. We got a surprise early on when we asked it to take us from Dortmund to Essen. I had failed to notice that our destination was somewhat south of Essen 'altstadt' and only woke up to that as the Garmin ignored the long-distance cycle route between the cities and cut a straight line across the Ruhr and the hills on its south bank.
George replied:
In the UK I normally rely on CycleStreets to make a route and preload it to the Garmin (via GPSies.com). I think CycleStreets has a much more sophisticated algorithm for cycle routing than the Garmin's. I only call on the Garmin to make me a route when my plans have changed unexpectedly. And I do agree that the Garmin route display doesn't follow your position very well through a series of turns.
CycleStreets doesn't do Europe yet (except Denmark(?)), though they have plans to do so. On our recent Netherlands tour I planned some routes on
http://www.fietsersbond.nl/fietsrouteplanner/
and pre-loaded them. But we relied mainly on the excellent Falk/VVV 1:50000 maps and the brilliant 'numbered nodes' route network signage that covers the whole country. You just need to know the number for your next node and the road/trackside signs will take you there. The GPS is virtually redundant. The only essential is a map with all the node numbers shown, or a list of node numbers for the route you are following.
10/16/12 @ 10:59
This post has 1 feedback awaiting moderation...

Comment feed for this post