THE TIMES FRIDAY APRIL 28 1989
OBITUARIES
GEORGE COULOURIS
Memorable eccentricity on stage and screen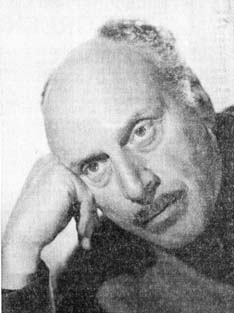 The actor George Coulouris, whose colourful career encompassed distinguished work with Orson Welles's Mercury Theatre and a vast range of eccentric film roles, died on April 25, of heart failure in London after a long illness. He was 85.
In the Thirties and Forties he acted in America and was among the Mercury players Welles took to Hollywood for Citizen Kane (1941). Coulouris had the part of Walter Parks Thatcher, the JP Morgan-esque financier who memorably poured scepticism over the young Kane's brash exploits. "is this really your idea of how to run a newspaper" he asked testily, brandishing one of Kane's more outlandish headlines, 'Galleons of Spain off Jersey coast'.
Thereafter, Hollywood kept Coulouris regularly employed: he appeared, among others, in Mr Skeffington ( 1944) and the 1943 Watch on the Rhine (repeating his stage part of the blackmailing Romanian count). Back in Britain after 1950, he kept busy in films, theatre and television using his wild, staring eyes to memorable effect, mostly in villainous parts.
George Coulouris was born in Manchester on October 1, 1903, and studied with Elsie Fogerty at London's Central School of Speech and Drama. His London debut came in 1926 with Henry V at the Old Vic. He was soon playing Yank in the first British staging of Eugene O'Neill's The Hairy Ape. By 1929 he had reached Broadway, via a modern dress version of Measure for Measure; his part as Tallant in The Late Christopher Bean took him to Hollywood in 1933 for MGM's film version.
Welles crossed his path in 1936 when they were both embroiled in the fiasco of Sidney Kingsley's anti-war play Ten Million Ghosts (the opening night was also its last). The following year, Coulouris joined the Mercury Theatre, making a strong impact as Mark Antony in their opening modem dress production of Julius Caesar. "Even 'Friends, Romans, countrymen' sounds on his tongue as if it were a rabble-rousing harangue he is uttering for the first time," noted John Mason Brown in the New York Post. Temperaments flared in the Mercury years - Coulouris could be a difficult customer during rehearsals - but he persisted with the company, appearing in The Shoemaker's Holiday (1938) and Heartbreak House (1938).
He continued his stage work once Hollywood beckoned, mounting and starring in his own Broadway production of Richard III in 1943. Here, perhaps, his relish for villainy got the better of him: the critic George Jean Nathan thought he resembled "a screen Bela Lugosi crossed with a grandopera Quasimodo".
In Britain, his film parts tended towards the mundane, though he rose to the occasion as the native Babalatchi in Carol Reed's Outcast of the Islands (1951), and proved a welcome face in assorted comedies and dramas right into the 1970s. Later stage work included the title role in King Lear at the Glasgow Citizens' Theatre (1952) and Sikorski in the London production of Rolf Hochhuth's Soldiers (1968).
Coulouris, who was twice married, leaves his second wife, Elizabeth, a son and a daughter.