San Francisco Chronicle 27 April 1989
OBITUARIES
George Coulouris
Roles as Bad Guy In Film, Theater
New York.
George Coulouris an actor who portrayed a rogue's gallery of villains in dozens play and films died of heart failure Tuesday in London at the age of 85.
With his huge shoulders, forward-thrust head and shadowed eyes, Coulouris was a natural choice for sinister roles.
And he liked playing the bad guy, "I've played so many," he once said "I was a traitorous lieutenant in Valley Forge, a fanatical, fascist-minded clergyman in 'TheWhite Steed' and in 'Saint Joan' a stupid English priest who wanted Joan burned and then went crazy with remorse."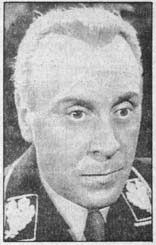 GEORGE COULOURIS
He was a Nazi in 'Hotel Berlin'
Among Coulouris' more than 40 major feature films were "All This and Heaven, Too" (1940), "Citizen Kane" (1941), "For Whorn the Bell Tolls" (1943), "Mr. Skeffington' (1944). "None But the Lonely Heart' (1944), "Joan of Arc" (1948), "1 Accuse!" (1958), "Arabesque" (1966), "Papillon" (1973) and "Murder on the Orient Express" (1974).
Coulouris was born in Manchester, England. and ran away from home at the age of 20, intending to become an actor but winding up as a waiter on the ocean liner Majestic.
He eventually won acceptance to the Central School of Dramatic Art in London. After graduation, lie made his London stage debut in 1925 at the Old Vic and had his first bio success in 1926 as Yank in the first British production of Eugene O'Neill's "The Hairy Ape."
Coulouris made his first appearance on Broadway in the Theater Guild's production of George Bernard Shaw's "Apple Cart."
He joined Orson Welles' Mercury Theatre in 1937 and when Welles went to Hollywood Coulouris went with him. He acted in "Citizen Kane" as Walter Parks Thatcher.
New York Times