George Coulouris Commemoration
held in the courtyard of the Athens School of Art Graduate Club
Plaka, Athens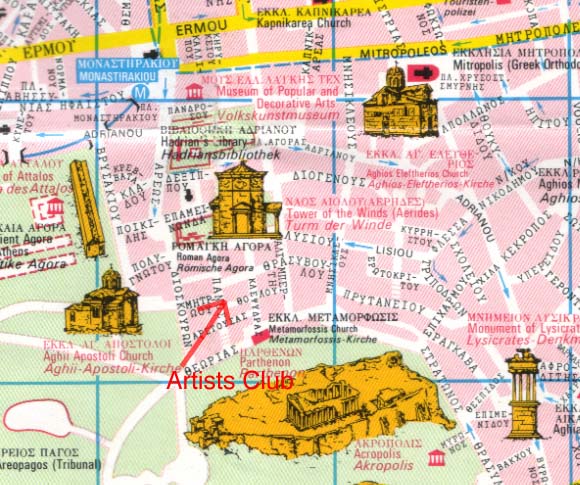 Presented by: Mary Louise and George Coulouris
9.30 pm, 4 June 1998
Interpreted by: Yiorgos
Approximate duration: 60 minutes
Audience size: 25-30 people
---
Home page | Photos | Mary Louise talk | George talk
---
In June 1998, Mary Louise was invited to hold an exhibition of paintings and prints at the Athens School of Art Graduate Club in the Plaka in Athens. When the organisers learned about her relationship with GC, they suggested that she organise a commemorative evening at which some video clips might be shown and some details of his life and career presented. Mary Louise agreed and invited George to come to Athens to participate in the event.
There was a good attendance and a relaxed atmosphere. The chair was taken by the chairman of the club, Yiorgos, who also acted as interpreter for the short talks given by Mary Louise and George.
The texts of their talks and the film excerpts are given below. George and Mary Louse felt that the event was a very approprate way to record some of their perceptions and feelings about their famous father's career, albeit some 10 years after his death.
Photos

Click for an album of photos from the event.
Mary Louise's talk
At the end of the twentieth century it is interesting to review the life of a man who was very typical of it, in my opinion. A century of turbulence and angst, but also of great progress and possibilities. My father was typical because he was a traveller, never settled, never sure he was in the right place, always going where the work was, but also a great optimist embracing new and progressive ideas.
My grandfather Nicholas Coulouris was born in the Pelepponese in a small village south of Tripoli called Kastri. Just at the turn of the century he emigrated to Manchester and built a life there, running a café on the waterfront and then becoming a businessman. He used his initiative to quote the value of goods such as scrap metal, rusty nails (which my father had to clean up!) and old rope.
He became comfortably off and with his English wife, who came from a Lancashire family of handloom silk weavers, he wanted his only son to take on the business. An attempt was made to integrate him into Greek business life.
My father describes, in his unfinished memoir, how on an abortive trip with his father to Greece in 1923, his father set up a shop in Athens dealing in cotton materials from Manchester in Ermou (near the Orthodox Cathedral).
As a digression: I find it fascinating that I could go down there the other day and find shops very similar to the one that my grandfather, who I never knew, set up.
But the life of the business man was not to be for my father. Filled with stories of working class life in Manchester from his English grandmother and subject to occasional racism in the back streets of Manchester, he had other ambitions. Bright and imaginative, he thrived at Manchester Grammar School and under excellent teachers he became absorbed in the cultural life of the day. Chaliapin, Caruso, Shakespeare were his heroes.
He could have gone to university but instead at 20 he ran away to London with the secret help of his mother and started a Bohemian life of drama school - contemporary with Laurence Olivier and Peggy Ashcroft - and sharing flats with poets, writers - sometimes having nothing better to sleep in than the bath.
A few years later he was playing small parts at the Cambridge Festival Theatre - a prestigious venue at the time. My mother was painting scenery backstage. They met and romance blossomed. She came from the land of opportunity - America - and persuaded him to go to New York. He found jobs in repertory on the East coast after playing Shakespeare and Shaw on Broadway with great success. In 1938 he joined Orson Welles' Mercury Theatre, appearing as Mark Anthony in that company's renowned Julius Caesar in modern clothes and several other exciting productions.
Orson Welles moved on to Hollywood and his whole company went with him. Their first film was Citizen Kane and from there, Dad's career was established in films.
[Citizen Kane video excerpt: From scene showing first encounter between Thatcher and the child Kane to the scene "at this rate I'll have to close the newspaper down in 60 years!"]
George's talk
GC's movie career started with a high point - though not in box-office terms; Citizen Kane wasn't financially successful until many years later and didn't really establish Welles as a Hollywood director.
GC needed to learn more of the new skills of screen acting; the opportunity came in the 1943 movie of Lillian Hellman's successful Broadway play Watch on the Rhine. In which he polished his screen acting alongside such seasoned performers as Bette Davis, Paul Lukas, Beulah Bondi and others. Some contemporary reviewers of his performance as a Nazi-sympathising blackmailer wrote: "A lucid and subtly repelling performance", "An elegant villainy".
His part in this film and a succession of others that followed established him as one of a small number of 'character actors' or 'heavies' playing the many foreign villains in wartime Hollywood. He had roles in more that 20 Hollywood movies up to 1948, playing with many well-known stars of the period: Bette Davis, Judy Garland, Bob Hope, James Stewart, Ingrid Bergman and Katherine Hepburn.
How did he achieve this success? He had a good sense of dramatic context and the essential meaning of a scene; he was always willing to develop and learn as an actor; he played many parts in which the characterisation was so strong that the essential lesson was to avoid over-acting and this he usually achieved.
In 1948 his restless personality got the better of the 40's Hollywood dolce vita. He moved with the family to the East coast to return to theatre work and then, only two years later, at the age of 46 he made one of the biggest decisions of his life: to move to the war-deprived London of 1949 with the aim of re-establishing his career in British films and theatre.
That he was successful can be seen by the long list of films (more than 40) that were made after 1950. But his aim was also to expand and fulfil personal goals as a classic actor. This he also achieved: While never penetrating the inner circle of English theatre (Stratford, the Royal Court, ... ), he played in more than a dozen London productions and was very active in provincial theatres, taking the leading role in many classic plays - Tartuffe, Le Malade Imaginaire, King Lear, An Enemy of the People and others, in theatres outside London, several of which transferred to London theatres for limited runs.
It was these productions that brought him the greatest satisfaction as an actor and these achievements were recognised by the critics. His obituaries included the following assessments: "...at home in Ibsen, Shakespeare, O'Neill and Tennessee Williams", "...at heart a classical actor", "...a thoroughly British (and sometimes stagy) actor".
Of course television was offering new opportunities to actors and he found much bread-and-butter work there. (He liked to repeat the snobbish epithet of a fellow actor: "Television is like acting for your grocer through a keyhole!"). His roles ranged from a part in Dr. Who and other space and horror films to period pieces.
One of these was the American soap opera Hart to Hart. It was his part in this that finally brought him back to Greece at the age of 80 in 1983. And it was then that his second wife Elizabeth persuaded him that he should 'close the circle' with his Greek origins by trying to find any remaining relatives in the Pelepponese.
It was an odyssey. The name by which his father knew his village, Kastanya, had changed to Kastri. But finally contact was made and many cousins were discovered there. Another trip followed in 1984 with George and his daughters and later Mary Louise visited with her family. Our children were delighted to find that Kastri was a "village of cousins"!
The autumn of his career was quite satisfying: he played some interesting (and often quite lucrative) mature parts on the stage and in TV and films. The part of the doctor in Murder on the Orient Express was perhaps a high-point in terms of the prestige of the cast, if not the uniformly high quality of the acting - the producers must have been crazy to blow so much money for so little acting! (The cast included Albert Finney, Lauren Bacall, Ingrid Bergman, Jacquie Bisset, Sean Connery, John Gielgud, Anthony Perkins and Vanessa Redgrave.)
[Murder on the Orient Express video excerpt: From scene: GC as doctor examining the body to his line "the murderer must amongst us".]
Concluding remark:
Born to a Greek father, of whom he wrote in his memoir "Even Orson Welles couldn't displace my father as the most colourful person in my life", it was perhaps his Greek ancestry that was responsible for his most prominent characteristic: his strong sense of drama, both on the stage and off it.
---
Home page | Career | Writing | Photos | Memorial
---
Compiled by George Coulouris jr, December 2000